Cultural Triangle Tour (4 Days)
Book this Package now, just for $50, and be pampered with the fascination of the island with Next Travel Sri Lanka. We assure you of the perfect exploration, with the comforts you desire. Need more additions? Yes, you can even plan your holiday to suit your true favours with our
Tailor-Made Tour Packages!
We are always here to assist you in planning the best holiday. Simply
contact us
, if you have any doubts about this package, tailor-made tour packages, or the bookings.
Book With Flexibility
Number of Days: 4
From Colombo to Polonnaruwa
Max Group Size

20

Private Tour

Available

Physical Rating

Active

Age Range

18 to 65

Operated In

English

Tour ID

NT18574
From $890, Price varies by group size
Got a question about this tour?
Reach out to our travel experts.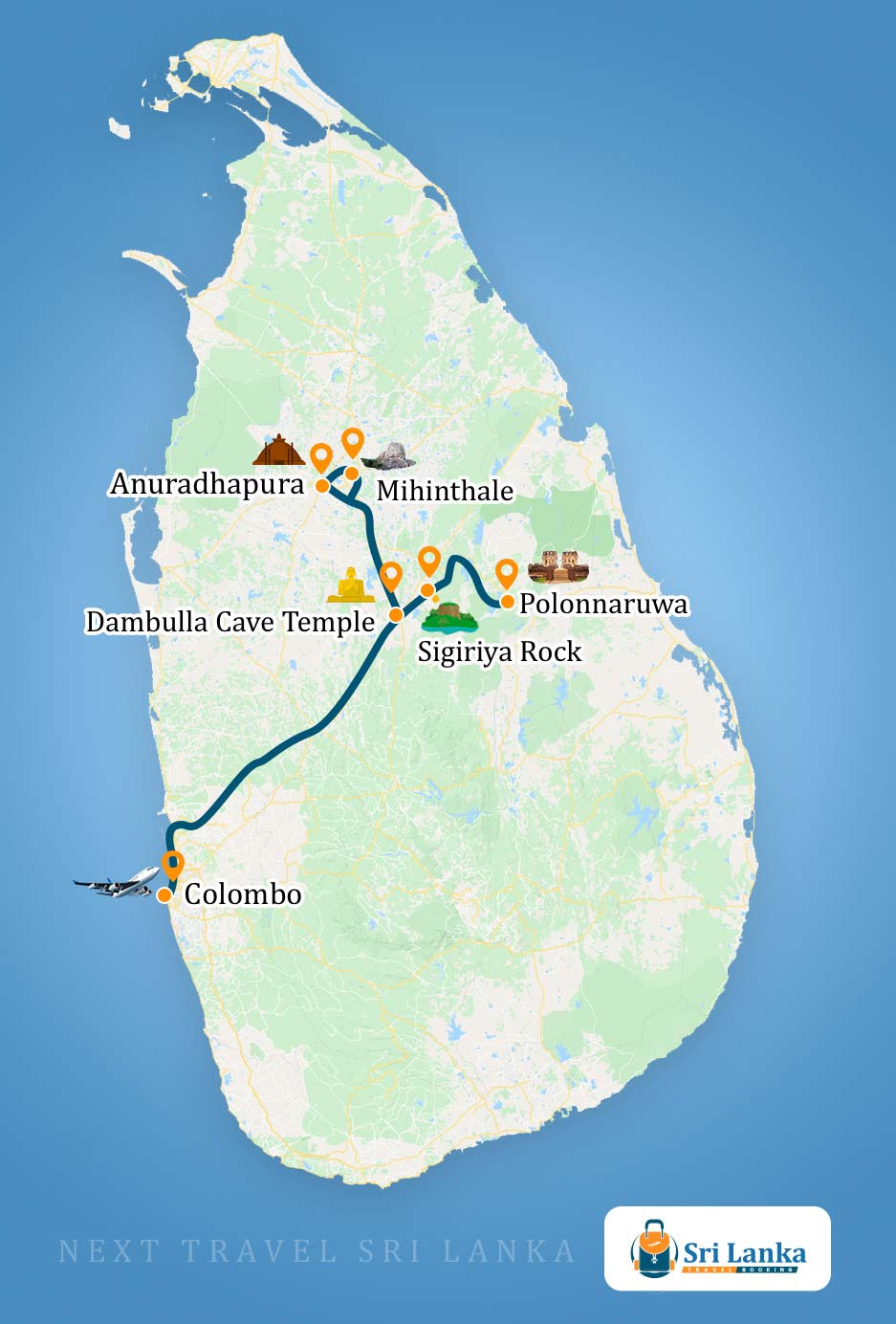 Highlights
Visit Dambulla Cave Temple
Explore the Ancient City of Anuradhapura
Climb the Sigiriya Rock Fortress
Explore the Ancient City of Polonnaruwa
What is included
Of course, there is so much on this island to explore, and getting around this country is not an issue at all! However, in order to offer you a trip with excellent comfort, we offer you the below selections to make the choice you wish.
Air-Conditioned Car
Air Conditioned Mini-Van
Air Conditioned Van
Also, we guarantee you that the vehicles we offer are in perfect condition, and thus, a hassle-free ride is ensured for you!
Let it be a stay by the golden stretches, a chill amidst the cool breeze or a holiday surrounded by the lush greenery! Whatever your heart desires, the wide array of star class hotels in Sri Lanka are ready to provide you with accommodation in a way that suits your wishes! And yes, an experience at a star class hotel on a half-board basis will offer you the below delights!
Buffet at the Restaurant (Dinner & Breakfast)
Bedroom Suit
Air Conditioned Living and Dining Area
TV Lounge
Mini-bar
Pool Facilities
Complimentary Wi-fi
Dishes in Sri Lanka are a true delight! Hence, you should never miss a chance to experience the authenticity and the exclusivity of the mouth-watering Sri Lankan tastes. However, 
breakfast and lunch are provided to you by the hotel, yet you will have to get lunch from a restaurant 
in the area that we travel to each day. Besides, you will also have an opportunity to choose among the below selections, for each of the main meals.
Breakfast

Starters
Soups
Appetizers
Sri Lankan Food

Milk Rice
String Hoppers
Hoppers
Rice and Curry
Pol Roti
Pittu
Those

Noodles Dishes
Seafood Platters
International Cuisine
Beverages

Lunch

Starters
Soups
Appetizers
Rice and Curry
Noodles Dishes
Seafood Platters
International Cuisine
Beverages
Deserts

Dinner

Starters
Soups
Appetizers
Sri Lankan Food

String Hoppers
Hoppers
Rice and Curry
Pol Roti
Pittu

Noodles Dishes
Seafood Platters
International Cuisine
Deserts
Also, please note that these are the general food items that any of the hotels would offer you, and there may be a wide variety of additional dishes depending on the hotel you dine at.
It is true that one can visit the attractions on this island on their own. Still, let us assure you that having a travel guide makes your journey more wonderful, and stress-free. In fact, they know about this island like the back of their hands. They are capable of enlightening you about each and every place you visit. Going beyond, they would turn out to be a companion of yours, inspired with a passion to fulfill your expectations on this beautiful island. Hence, we make sure to provide you with the service of an English-speaking, qualified, experienced guide, along with an English or Italian speaking driver. And yes, they will surely become a reason for you to make this Sri Lankan travel more amusing than ever!
Certain religious and cultural attractions, Museums, National Parks, Botanical Gardens, etc, on this island, require the visitors to purchase an entrance ticket, in order to enter the site. It is a must note that our tour package DOES NOT include these entrance tickets. It is up to the travellers to purchase these tickets at the entrance of those sites.
Of course, you will be provided with refreshments (tea, coffee, fruit juice, etc.) as a part of our package. Still, you will have to enjoy the beverages consumed at hotels at your own expense.
International Flights are not included in our packages. It is up to the visitors to take care of their flight bookings and our tour packages, and additional services begin only once they arrive in Sri Lanka.
We recommend you have travel insurance to enjoy yourself more and travel stress-free on this paradise island of Sri Lanka. Yet, insurance is not included in our tour packages. Tourists are responsible for choosing the insurance packages that suit them the most and getting themselves insured.
Frequently Asked Questions
Grabbing out the best essence out of a wonderful holiday destination indeed requires a good plan. Yet, proper planning surely requires a good knowledge about the destination as well. In that case, you will certainly need a helping hand to know more about what to expect, how to get ready, and mostly, to clear out your doubts. However, as an experienced team working close to the hearts of our travellers, we clearly understand what troubles your mind, and your desire to travel with peace of mind. Thus, we have answered the most frequently asked questions, so that you can easily clear out your doubts just in a second. So, why not? Have a look at the below section, and we are sure that we have answered your question!
Abiding by the new normal, Sri Lanka is now open for tourists after the COVID-19 pandemic. Yet, 
quarantine measures
 are different for the vaccinated and unvaccinated tourists.
Completing two weeks upon receiving the recommended doses of COVID-19 vaccinations will make you begin travelling on the island sooner. Apart from that, Sri Lanka requires no mandatory vaccinations before arrival.
The natural marvels of the island nation Sri Lanka, which includes the golden shores, charming cascades, scenic landscapes, and diverse wildlife are indeed capable of attracting any tourist. Besides, its rich cultural heritage, delightful festivals, pleasant climate, exclusive cuisines, and extensive range of facilities for affordable prices, simply make tourists go to Sri Lanka, at any time of the year.
Tourists are only permitted to get to Sri Lanka, by air.
Yes, of course! If you are arriving in Sri Lanka for a holiday, for medical treatments, or to take part in an event, you will require a Tourist Visa.
Any foreigner who plans to arrive in Sri Lanka should obtain an Electronic Travel Authorization (ETA) through 
http://www.eta.gov.lk/slvisa/
. The website also contains a full guide on obtaining the ETA, along with the payment details.
The Visa is valid for 30 days.
Yes, you can. Still, you have to apply for a visa extension, before your current visa expires. All you have to do is collect the visa extension form from the Head Office of the Department of Immigration and Emigration (You can also download the form from 
here
), and submit the duly filled application, along with the following.
Return Air Ticket
Details of the place of accommodation
The application along with a photograph of the applicant
Also, please note that the applicant should be present to collect the visa.
It is always better to have your National Identity Card, and Passport with you when travelling around the island.
In brief, Sri Lanka is a year-round destination. Thus, it always has something to do and somewhere to visit on this island. Still, it is always better to choose a time where the monsoon rains do not impact the area you plan to visit in Sri Lanka. This complete overview of the 
weather and climate of Sri Lanka
, and the official website of the 
Department of Meteorology, Sri Lanka
 will help you with regard.
You can either use 
public transportation
 which includes the bus and train services. If not, you can even hire a taxi, a tuk-tuk, or hire a vehicle to drive yourself.
Sri Lanka Rupees (SLR) is the currency used in Sri Lanka.
Not really! If you are using 
public transportation
, enjoying meals from budget restaurants, and taking accommodation at budget hotels, you can experience the holiday at your heart's core, at a low budget. Thus, the cost depends upon your choices. Still, a holiday in Sri Lanka is simply cheaper than many other tourist destinations across the world.
The best is to wear comfortable materials, preferable cotton, linen, or rayon since Sri Lanka is warm most of the time. Besides, if you are visiting a religious place, the best is to wear something light colour that covers from your shoulders to your knees, to blend with the culture there. Besides, having a shawl will help you to cover yourself in instances where your attire is inappropriate to visit such a place.
As long as you are travelling in a populated area it is safe to travel alone in Sri Lanka. Still, if you are a female travelling alone, the best is to wear an attire that covers your body, and also, wearing a fake wedding ring, acting familiar, etc. will help you avoid unnecessary hassles. However, the best is to avoid night rides, and use google location if you are travelling alone!
Most can! Still, some locals would only be familiar with Sinhala and Tamil languages. However, hand signals will help you in instances as such.
Simply, cultural and religious values run through the veins of Sri Lankans. So, never disrespect any religion. Avoid posing with funny actions at religious sites. Besides, dresses or tattoos with religious slogans or images might pave the way for unnecessary disturbances.
Avoid public nudity and kissing.
Never take photographs without permission.
Not at all! All you have to do is to climb the steps that lead to the summit of the rock. The time duration for climb might vary between 1 – 2 hours, depending on the speed of yours.
Similar to Sigiriya, the hike to Mihintale is also not that difficult. There is a well-prepared stairway leading to the area where the Mihinthale temple is located, and this climb would take around 1 hour if you climb at average speed. Then, you find the Mihintale rock, and the climb to this rock would be quite difficult if it is windy.   Other than that, reaching the Mihintale temple site and climbing the rock would never be a hard task.
Good to Know
The delight of a Sri Lankan holiday needs no further exaggerations. Its natural splendours, pleasant weather and climate, welcoming smiles of Sri Lankans, and every other bit of this wonderful paradise are surely going to enchant any who visits it. Still, in order to witness the true delight of this wonderful destination, knowing a few things more would certainly benefit you. Keep calm, and have a look below. They will help you make the most out of your time on this splendid island nation!
Electricity is not an issue in the present, especially around tourist hotspots. It is true that some extremely rural areas still lack this facility. Still, we can assure you that those areas are out of the tourist zones. However, Sri Lanka operates on a 230V supply voltage and 50 Hz. Hence, be mindful to bring compatible devices or voltage converters. Besides, it is always better to have with you a power bank, rechargeable lamp, etc. because emergency power cuts could occur once in a while.
As you might already know, Sri Lankan Rupees is the currency used in Sri Lanka. The best would be to bring USDs with you and then to exchange them for the local currency once you arrive. Doing so will offer you opportunities to get better exchange rates as well. Besides, Mastercards and Visa Cards are widely accepted, while American Express Cards are also often accepted. Still, it is always better to have cash in hand, since most of the local boutiques around tourist attractions do not have the facilities to accept credit cards. Also, ATMs are available islandwide. Still, not all of them accept international cards. The daily transaction limit usually ranges between SLR 100,000 to SLR 200,000 and a transaction fee is imposed upon every transaction. Moreover, banks are open on weekdays from 9 AM to 3 PM and closed on weekends. Still, some main cities have a few banks that are open 24/7, or either till night hours.
Of course, telecommunication facilities are available almost island-wide, except for the extremely rural areas. If you are planning to stay connected during your travel to Sri Lanka, the best would be to buy a local sim since the mobile service providers here offer perfect tourist plans that would simply save you money. Also, buying a sim in Sri Lanka is not that hard. You can buy one easily from the airport premises, or the outlets islandwide.
As you already know, Sri Lanka holds accommodation facilities that cover an extensive range. Starting with the Home Stays, Guest Houses, Bungalows, to Medium-Scale Hotels, and Super-Luxury Hotels, this paradise island has it all. Of course, the price might vary upon your selections and the facilities they offer. Still, accommodation facilities are indeed cheaper in Sri Lanka, when compared with tourist destinations worldwide. However, some of the Home-stays, Guesthouses, and Bungalows might not have AC and hot water facilities. Hence, if you are concerned with regard, it is always better to ask about these little things before placing your bookings. Besides, finding accommodation during the off-season might not be that hard. Still, it is always the best to hunt for accommodation a few days earlier, just to travel with pace in mind.
Discovering the unique flavours of 
Sri Lankan Food
, 
seafood
, and 
cultural dishes
 would simply be a delightful experience that you can ever imagine of! Let it be the luxurious hotels that offer you both local and international cuisine, and the small boutiques or the 
street stalls
 that amaze you with their mouth-watering tastes, all of them are impressive beyond words. However, local dishes might be a bit spicy. Thus, it is always better to inform the cook earlier, if you prefer less spicy food. Besides, the cost of food in Sri Lanka highly varies depending on the place you choose to dine, and the dishes you select.
Photography and videography are not forbidden in Sir Lanka. Still, make sure you request permission, especially if you are capturing locals, their boutiques, or their houses. Besides, never turn your back to religious statues, or pose with them with funny poses, since Sri Lanka is a country backed with strong cultural values. Also, whenever you visit a religious or a 
cultural attraction
, or a museum, make sure to check for notices. Photography and videography are strictly prohibited in certain places, and using the flasher is strictly prohibited in some sites with historical paintings, and murals. Going beyond, photography and videography in some places require prior permission or payments. Hence, making memories is always fine, yet, it is always better to be mindful of the restrictions. And yes, your 
travel guide
 will simply help you with these concerns!
As you might already know, Sri Lanka is a country with a rich cultural heritage. Thus, we encourage you to follow the below ethics when visiting 
religious places
 in Sri Lanka.
Most religious places encourage visitors to wear a light colour attire that covers their body, shoulder to knees. Thus, if you are visiting a religious place, make sure that you do not wear shorts, crop tops, skinnies, etc. Also, having a shawl with you will help you cover your body at such times, in order to blend with the culture there.
Visitors enter the religious place barefoot and caps, hats, scarfs, etc. are removed before entering the site.
The tranquillity of the religious places in Sri Lanka is simply impressive. Hence, make sure you mind your behaviour.
Indeed, safety is first! So, it is always better to keep an eye on animals, especially on the stray dogs on the roads. Be mindful when feeding them, or touching them. And by chance, if a stray dog or any other animal bit you, make sure you arrive at the nearest government hospital, and they will make sure to treat you accordingly.